Midnight Glitter Ghost Flame Bag
This bag is Actually a Lunch bag...It has a Zippered compartment on the Bottom that is lined (for Either a Sandwich or your Make-Up!)The Top Area is lined in Fabric and has a Drawstring Closure with an over Flap with Cargo Buckle.Measures 7 Inches Wide x 11 Tall. It has a Black webbed handle.I Customized it with Handpainted Flames around the Bottom Done in a Midnight Glitter.Simply Stunning!
$15.00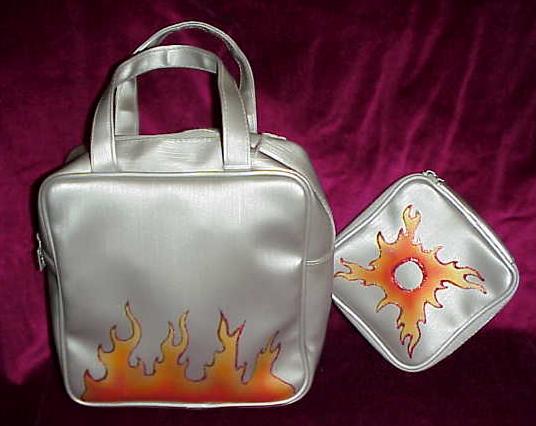 Cyber Silver Flame Purse Set
Silver Textured Vinyl Bags. Done with Red/Orange/Yellow Flames. Edged in Red Glitter.Purse Measures 7 1/2 x 7 1/2 Inches. Make-Up Bag Measures 5 x 5 Inches.
$20.00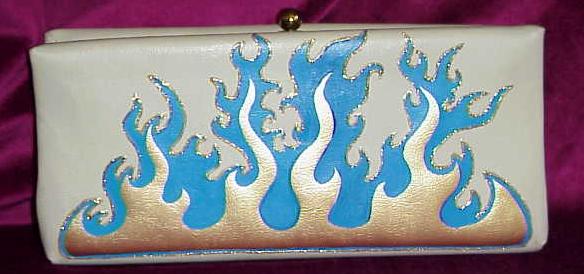 This is a FAB Bag! It it a Vintage Ivory Clutch Purse.We Customized it with a Hand Painted & Airbrushed Gold and Blue Flame Motif on the Front that is Edged in Gold Glitter! Simply Stunning! Measures 11 Inches Long x 5 Inches Tall. It has a Gold Chain Too.Lined with Black Fabric.
$20.00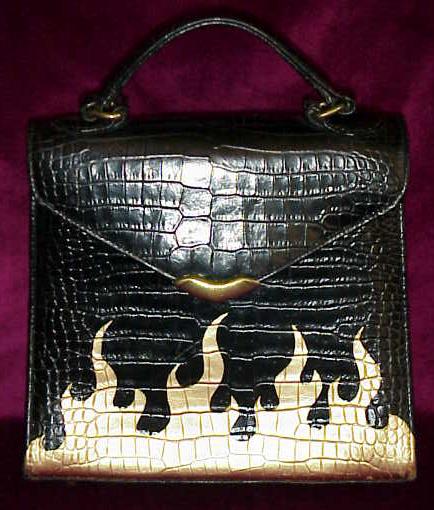 This one is Made by Nine West.It is Black Alligator Texture.We Customized it with Gold Flames!Too Hot!It has a Handle and also a Shoulder Strap.It Measures 8 1/2 Inches across the base x 7 3/4 Tall. It has an inner Slash Pocket.One Stunning Bag!
$20.00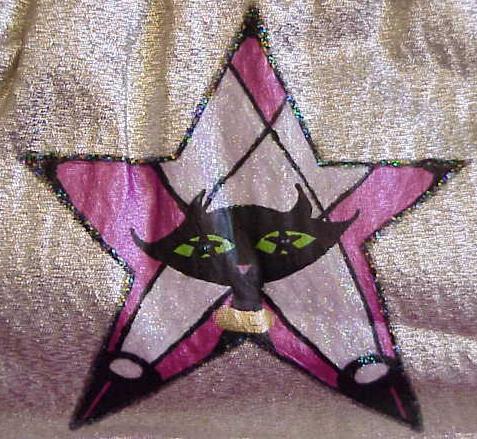 Newest Scardey Cat Bag
~Scardey Goes HollyWeird~
Hand Painted on a Silver Lame Fabric Bag
He has Iridecent Dots in His Star-Struck Eyes
There a Spotlights Behind him With Iridecent Glitter
And He Sits Inside a Metallic Pink Star
Simply Stunning!One Of a Kind!
$25.00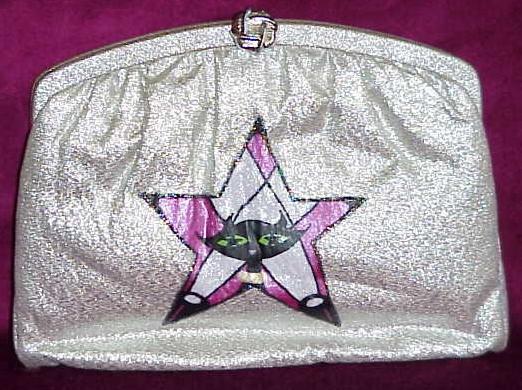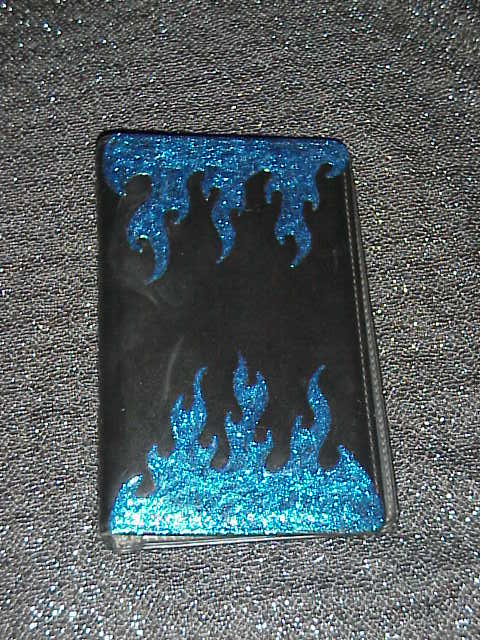 Personal Rolodex Organizer
I have Customized it with Handpainted Blue Glitter Flames.It is a Standard 6 ring style.It is empty and ready to filled! It has 2 slots for Credit Cards/Ids.It has a slash pocket inside the rear flap.it also has 2 slots that you can use to store Keys!Also it has a Today Seperator/Ruler. There is no Paper inside though,It takes standard refills.All Man Made Materials~VEGAN FREINDLY!
$5.00