Adorable Mini Hat Box
Has a Dark Floral Motif
Measures 1 1/2 In Tall x 2 In Wide
Dah-Ling!
$2.00
A Beautiful Handpainted Laquered Box from Russia! The Colors are Stunning!It has a Dark Flower Motif with some metalics on the outside of the Box, and it has a Floral pattern done on the inside of the Box too! It would be a great hiding place for Cigars/Cigarettes...Or it is pretty enough to have open standing on one end as an Art Piece! Measures 6 1/2 Long x 5 1/4 wide x 2 inches deep.Signed ~HTH 1999
$10.00
This is Such a Kool Box!It is made of Faux Leather.In Green and Brown with Brass Studs all over it!It looks like a small Mid-Evil Treasure Box.You could even use it as a Purse!It Measures 5 3/4 Inches Long X 3 Inches Wide x 3 1/4 Tall.It has a Little Brass handle on top , and a Great Hook and Eye Latch(top notch!)too.I was going to Paint something on this one and Couldn't bring Myself to do it!Too Kewl as it is.
$10.00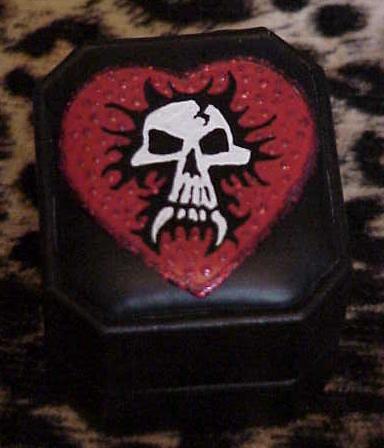 This is a Kool little Faux Leather Black Ring Box I came across. So, of course I just HAD to paint something on it!It has a Blood Red Heart on the Top with a Vampire Skull on the Heart.The Heart is Edged in Ruby Glitter and the whole heart is studded with Ruby Glitter!It measures 2 x 2 x 2 inches.This is a Handpainted Reivyn's Nest Design Original!I will almost Guarantee that you have/will never see the likes again!It would be great for keeping that special ring in,or your Vampire Fangs!
$5.00
Cadbury Double Decker Bus Tin
$5.00