This is a Really Interesting Metal Open Scroll Work Basket. It has Leopard Fur around the Middle! Measures 5x5 Inches at the Base and 3 1/4 Tall (not including the Handle) This would be Great in a Punker Princess Bathroom!Or it would make a Kewl Gift Basket!
$5.00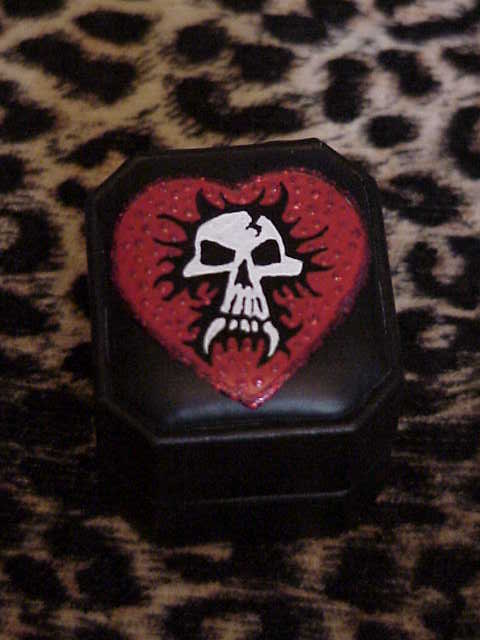 This is a Kool little Faux Leather Black Ring Box I came across. So, of course I just HAD to paint something on it!It has a Blood Red Heart on the Top with a Vampire Skull on the Heart.The Heart is Edged in Ruby Glitter and the whole heart is studded with Ruby Glitter!It measures 2 x 2 x 2 inches.This is a Handpainted Reivyn's Nest Design Original!I will almost Guarantee that you have/will never see the likes again!It would be great for keeping that special ring in,or your Vampire Fangs!
$5.00
Retro Look Coke Tin
This Cool Coke Bottle Tin Measures 9 1/2 Inches long, 3 inches wide,and 2 inches deep. It even has moisture beading up on the Picture!Verry Cute!Any Coke Collecter will love this tin!
$3.00
This is a Cute little Open Work Gold tone metal box.I collect boxes, and well..I have too many so I have to share!It measures 4 1/2 inches long x 5 inches wide x 1 inch tall.It has a little clasp that holds it shut. Great for Potpourri,or any other small items!
$1.00
These appear to be South American,Mexican in Origin.They are Colorfully Handpainted, made of Clay.They are 4 1/2 inches long x 3 inches tall.Thier mouths are open and you can put little things inside(Treasures/Potpourri/Rings)They are Really Cute,They remind me of little Piranas!
$5.00