I Love all Things Oriental,There is Such Style and Beauty in their Designs. Their Ghost Stories and Myths and Legends are Epic!This is My Altar for
The Cherry Blossom Festival.
(Did I mention anywhere else in The Nest That I collect Kimonos and Oriental Nic-Nacs?)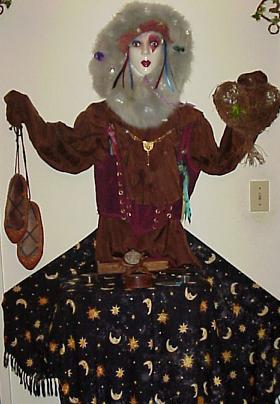 This One I Did after The Ren Faire...To Keep the Spirit of the Faire Alive a Bit Longer.The Shoes that are hanging from the Wall are ones that I got in Spain as a Child.The actual Name of the Shoe iludes me now..They are Spanish Shepard Shoes.They were custom made..Verry Cool!
(This One Used to Scare the Be-Jeebez Outta Thor in the Middle of the Night!)