VHS/DVD Movies, Games for your Playstation/PC/Portable Devices,Music CDS,Books,Comics,and Magazines!....Coming Soon!
Games
PC Games & Such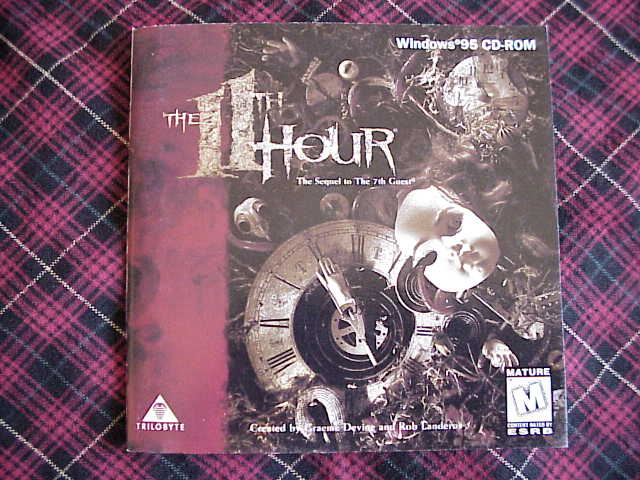 The 11th Hour The sequel to the 7th Guest...In the 70 desolate years since the horrifying murders chronicled in the 7th Guest, the town of Harley has been ominously silent.Only when journalist Robin Morales vanishes while investigating the rotting, abandoned mansion of legendary toy maker Henry Stauf,do events resurrect the malignant past. This is an Awsome Gothic Game! 2 cds.windows compatible.
$10.00
Dare you Disturb the Eternal rest of The Entombed In the tradition of Myst...comes a complete ray-traced mystery of peril and intrigue. It will pit you against an ancient civilization's technology,thier insidious-and potentially lethal-Traps,and a deep underlying mystery of monumental consequence.Armed withonly a diary of a previous collegue,you must solve the mystery of your failed predecessors and unravel the riddle!
$8.00
King's Quest V The greatest Adventure in the History of Daventry is about to begin...Embark with King Graham on the most thrilling and perilous adventure of his career-the quest for the missing Royal Family of daventry.Experience the magical world of King's Quest, and descover why more people have played King's Quest V than any other computer game series in history! Window compatable.
$6.00
Torin's Passage This is a Funny Game! It has five chapters plus a prologue.Each Chapter takes place on one of Strata's five nestled worlds.The first time you play,you'll see the Prologue's opening movie that gives you important background info about the story.It ends where game play begins-In the Lands Above!
$5.00
Dungeon Hack Get ready for limitless danger-filled dungeon adventures! As an AD&D game hero armed with weapons and magic,explore your nightmares.Hack and slash at these vile creatures,avoid treacherous traps and solve mind-bending puzzles.The randomized dungeon generator can create over a million different dungeons-that's a new monster hunt every time you play!
$8.00
Heretic Shadow of the Serpent Riders While the other Sidhe hid, their spirits broken,you thirsted for Vengence and rode East into the wilderness, in search of D'Sparil. Now you stand before the City of the Damned,its air thick with stench and Rot. Your hate drives you to see those creatures oozing thier hearts' ichor before you.Beyond these gates, the dead and the creatures of the night writhe in dark corners, their bodies aching for your blood. With luck, some of your people's ancient artifacts can be found hidden among the dark passages beyond, For, with only a staff as your weapon,the worldis surely damned!
$4.00
Dragon's Lair (This is another one I spent most of my Allowance on in the Arcade!)You control the action of Dirk the Daring,a valiant knight, on a quest to rescue the fair princess from the clutches of an evil dragon.Fight your way through the castle of the darkwizard who has enchanted it with treacherous monsters and obstacles.Lead on brave adventurere....Your quest awaits!
$8.00
Space Ace Classix 80's Arcade Game ( I must have put a small fortune in this game back in the Day!) The Evil commander Borf has kidnapped Ace's Girlfriend, the beautiful Kimberly,and is plotting to enslve the earth using his dreaded "Infanto Ray", a weapon that changes everyone it blasts into a helpless baby.Armed with only a laser gun, Ace must find and destroy The infanto Ray, rescue Kimberly and save the earth. All in a Days work for a superhero,right?Funny,Funny Game!
$8.00
Extreme Pinball Extreme Pinball is the Ultimate in PC pinball. four ultrarealistic pinball tables complete with 3D SGI-rendered dotmation sequences,super-smooth scrolling,multi-level playfeilds,up to 5 balls at once, superb sound effects and amazing pinball action!
$5.00
Word Connect will put your crossword skills to the Test!Play tiles onto the board to spell interlocking words-score points by using the bonus squares to double,triple,or even quadruple word and letter scores.Choose from 20 skill levels and 7 board layouts,or use the exclusive Board Builder to create an infinite number of your own layouts!Also features 3 dictionaries,an anagram and crossoword finder,hints for the best scoring plays,shuffling and tile exchange options,as well as Graphics and sounds!
$4.00
TetriMania Features a unique collection of more than 40 versions of one of the most popular computer games ever created.From its origins in Russia,these games have entertained millions of people for years.You will find exciting block formations,breathtaking 3D graphics,and innovative new game variations!
$5.00
Word Publisher Windows 3.1/95 Make professional Publications come to life!
3000 clip Art Images~OLE Feature ( Object Linking and Embedding)~ Professional Color & Text Effects~Ready Made Templates make Design a Cinch!
$5.00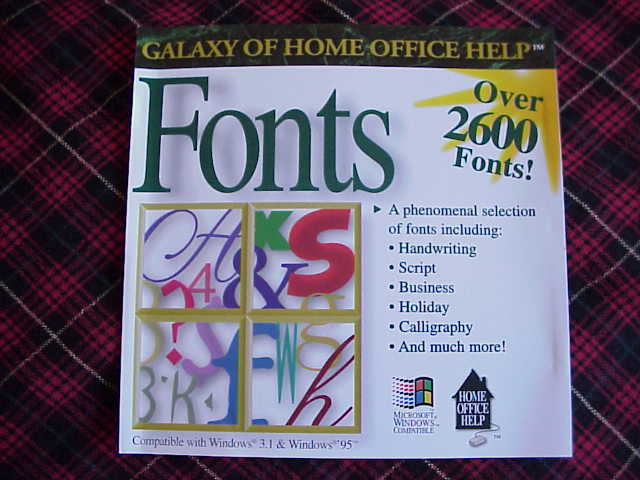 Fonts Over 2600 Fonts for Windows on one CD-ROM! This Unique collection of True Type fonts will add new life to your communications!Nice Thumbnail Views make it easy to pick which font!
$4.00
Clip Art Over 25,000 Images. Perfect for Presentations,Brochures,Newsletters,Greeting Cards,T-Shirts, Correspondence, School Reports,Web Pages-Just about any project!
$4.00
MultiMedia IQ Test for Mac & Windows. This is aFun MultiMedia IQ Test.Do you know your IQ? With this program you can find out!
$4.00
MultiMedia Algebra Learn High school Algebra The Fun,Fast and Easy Way!Algebratic Categories Include : Algebratic Concepts~ Order of Oerations~Simplyfing Fractions~ Integers~ Polynominals~ Factoring~ Exponents of Roots~Quadratic Equations~Coordinate Graphing.Detail Steps for problem solving : Animated examples show problemsolving step by step~Examples incorporate rules learned in previous sections~Learn at a comfortable pace.Explinations of Algebratic Rules,Practice Problems encourage learning!
$5.00
Think & Talk Italian A complete Easy-to-Use Language Course ,Builds all-around fluency,with an emphasis on speaking and listening skills.Quickly focus on learning~as you navigate through the program with a simple click.Instantly access more than 10,00 words~ and their English translations with the online dictionary.Watch your accent improve~ as speech recogintion understands and evaluates your pronunciation. Get your Pronunciation just right~by recording your voice and playing it back.Stregthen your command of the language~By reading words as they're spoken.Prepare yourself for a variety of conversations~with 50 lessons and 150 real-life situations.
$5.00
PlayStation
Chronicles of the Sword Risk all to defend Kin and country.As Sir Gwain, a heroic knight of the Round Table ,you must be quick to uncover the plot of the wicked soceress Morgana.Defeat her before she drives Camelot from peace and proserity into ruin!Over 100 breathtaking locations to explore.Amazing animated 3D rendered characters.Unsurpassed replication of the King Athur Era.Challenging interactive puzzles and combat sequences.Movie-Style cinematic techniques and immersive sound effects! 2 discs. 1 player
$10.00
Golden Nugget Features: 16 classic casino games,including Pai Gow Poker, 7 Card Stud,Blackjack,Texas Hold-em, Mini baccarat,Craps,Puolette, Big Six,Keno,Slot Machines and Video Poker! Realistic Style Las Vegas-Style gaming down to the odds,pay-offs, and rules.Polished 3D graphics bring you inside this legendary casino-complete with dards and chips.More than 30 minutes of live action video starring Adam West filmed on location at the Golden Nugget! 2 Disc game.1 Player
$10.00
Surf Riders Mother Nature is here to spank you silly! Battle the world'd wildest waves, astride one of 15 licenced boards.Shredding to the surf anthems of Pollo Del Mar, the Aquamen & Los Staightjackets! Try to tame the legendary tides of Hawaii, France, Australia, Japan and california.Execute huge aerials,cutbacks, off the lips, or take a beating from Mother Nature Herself! 1 Player
$10.00
HardBall 5 There is no book with this Game, just the game and the Jewel Case. You can download the instructions from About.com ( Search Playstation HardBall 5) If you like BaseBall you will like this game!
$5.00
Game Gear